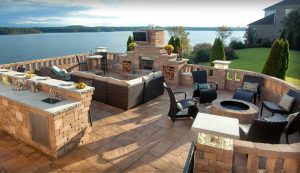 There are many different styles of outdoor furniture to choose from and only by going to the furniture store can you get a better idea of what you might like. Some people who've been to Bali for holidays fall in love with the relaxed and easy lifestyle, along with the Indonesian style of furniture that goes with it. You can find a lot of these styles at some of the many furniture stores in Australia who import such furniture.
The main thing to consider is whether it will stand up to the weather, unless your outdoor area has a roof to protect everything from the rain. One of the latest trends is furniture that is similar to the old-fashioned cane work of yesteryear. This wicker furniture is traditionally made from plant based material that is dried and treated, then woven together to make beautiful furniture. However, being from plants, it tends to break down quickly if left out in the weather.
Man-made wicker work is made from PVC, plastic or fibreglass that withstands the aging and rotting effect of rain and sun. It lasts a long time and yet it looks just like the plant-based wicker work. Both create furniture that is attractive and strong, yet light enough to move around easily.  Many people don't like to be limited in the choice of position for their furniture, but rather like to shift it around to suit the occasion. So light furniture is ideal for them.
Heavy furniture needs to be left in one place once it is situated correctly. Of course, you can add a few lighter easy chairs to the mix so you can still have the choice of where to sit. This is great if you have a pool where you want some easy chairs to offer you maximum comfort, but still may like to relocate them, or use them for alfresco furniture when it's too cold to swim.
So taking into consideration the weight of outdoor furniture is important, as well as the looks and the comfort. If you have a truly contemporary or modern home, you would want to enhance it with the same style of furniture, whether it is inside or outside. Having rustic furniture might add a jarring effect if it looks too different.
But if you have an older home or a cottage garden, then rural or rustic furniture would suit it very well. Boat wood furniture offers a very rustic look that would also match in with those surroundings.

Sometimes it looks very attractive to mix and match different furniture styles and indeed, this is necessary if you want both comfortable chaise lounges to relax in and dining chairs to go with the table. But just be sure that they do look good together first.