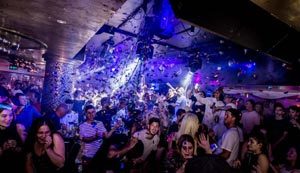 Bali is one of the most popular party destinations in southeast Asia. Whether you're a backpacker staying in budget accommodation or a business person with your own private Bali villa, there are plenty of nightlife options out there for you to choose from.
The key to Bali nightlife is finding somewhere that is safe, fun, and that meets your needs. With this in mind, I've put together a list of the top 5 nightlife hotspots in Bali. These include:
Old Man's
If you're looking for a low key, chilled out place to have a few drinks and meet new people, then Old Man's is the place for you. Boasting a beer garden, beach frontage, and comfortable seating options, the party atmosphere really heats up as the hour gets late. In fact, Old Man's is a favorite among young tourists who just want to get out and have some fun.
The Sky Garden
As one of the most popular rooftop bars in Bali, the Sky Garden caters to people from all walks of life. The rooftop bar itself boasts all you can eat buffets, a wide range of beers, and regular live DJs. If you want to continue the party after you've eaten, the Sky Dome Super Club is just downstairs. This is without a doubt one of the best places to start a night out in Bali.
Koh
Koh is a wonderful, modern style club that was inspired by the underground music scene in cities like Berlin and London. Catering to lovers of styles like house and techno, the Koh is the perfect place to dance the night away with a few friends.
Engine Room
If you're looking for a more traditional nightclub where you can have a couple of drinks and dance the night away, then head over to the Engine Room. Boasting three stories of popular music, great visuals, and even better people, the Engine Room is one of the most popular clubs in Legian.
Single Fin
If you're looking for somewhere for a mad Sunday sesh, then you simply can't go past Single Fin. With great ocean views, free flowing drinks, and a wonderful atmosphere, Single Fin is a great place to watch the sunset before hitting the dancefloor. Check their website and book a booth if you're planning on visiting during a busy period, otherwise you simply won't get a seat.
Final Word
There you have it, 5 of the best places to party in Bali. If you're looking for fun, engaging nightlife hotspots to have a few drinks, then you simply can't go past those listed above. Make sure that you do your own research beforehand, otherwise you may be disappointed with the music style or atmosphere on the night that you visit.