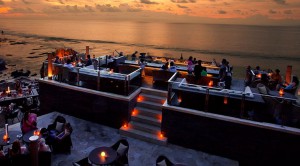 Part of the experience of visiting Bali is to enjoy the amazing Bali nightlife it has to offer, and there is no question in my mind that you won't be disappointed. If there's one thing Bali knows how to do it's how to party, and regardless of where you are staying in Bali you are sure to find some great night entertainment.
Bali has a rather unique form of nightlife that you are going to want to check out. Of course, you can also experience it during the day, but at night it really is that much better. Bali offers many rooftop bars that provide you with spectacular views of the city you are staying in.
For example, there is the Salsa Bar at the Hyatt Hotel Bali or the Sky Bar at the Mulia Bali. How close you are to one of these fun and entertaining rooftop bars will depend a great deal on where you are staying. That's an entirely different conversation considering the number of affordable villas that have come to market. What a great form of accommodation for anyone who really wants to experience all of what Bali has to offer.
Bali nightlife offers all kinds of live entertainment. That means you can dance the night away or just kick back and relax while you sip on your favourite cocktail. Don't worry about closing time because it's pretty common to dance the night away and finish the evening off enjoying a sunrise.
In fact, why not start your evening out with a sunset and end it with a sunrise. Now there's something you can take home and talk about. Your friends and family are going to be extremely jealous of your Bali vacation and not just the Bali nightlife, which I've already stressed as something you won't want to miss, but also all of the other aspects of your Bali vacation. There's really no other vacation on earth that can compare to your time spent in Bali. So, start saving, because your next vacation really should be Bali!