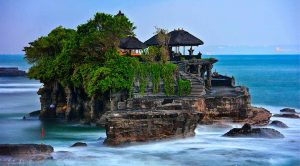 Bali's tourism industry has grown, and with that growth has come the need to restructure some of the overly crowded tourist areas. Those who are stakeholders in tourist zones are urging the authorities to restructure these overly crowded areas to improve the business climate. These are especially noticeable in some of the Bali's southern destinations.
Indonesian Chamber of Commerce and Industry (Kadin) for Badung regency, Alit Wiraputra, said some of the more popular tourist areas in South Bali like Legian, Nusa Dua, Petitenget, and Seminyak have become over crowded. Development in these areas is out of control and will continue to be so if a wells structure plan is not put into place. According to holiday experts Easy Villas, Bali villas have grown in popularity and provide an accommodation alternative to the far too crowded and busy hotels.
Kuta is an area where there have been too many budget hotels open as a result of construction occurring without the proper licenses. The fierce competition, has actually led to an unhealthy business climate. In addition, the lack of proper parking facilities has caused a problem with congestion. Kuta is just one example. These traffic jams and the overcrowding tend to discourage travellers from these areas. That is certainly not what's wanted and so restructuring will play an important role in making sure that these concerns don't continue unaddressed.
One of the recommendations of Bali administration is to not allow any further accommodation development. For those that did not obtain the proper licensing the recommendation is to close them down. There is also a recommendation to move further development of accommodations to surrounding areas to relieve congestion and benefit these other areas.
When there is a growth in tourism and therefore a growth in development to accommodate those travellers, there is always the risk of overcrowding and almost always being proactive in restructuring can relieve this pressure. There's no question that Bali is going to remain a popular destination – in fact, its popularity is certain to continue to grow so restructuring of crowded areas makes good sense.