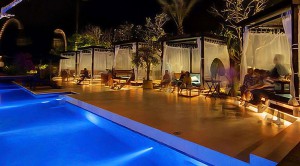 The loss of a number of restaurants in Batu Belig made news, but when Hotelier Indonesia reported on the opening of the Mozaic Beach Club in July 2012, people took notice, so it should be no surprise that its popularity continues to grow. Chef Chris Salans is the brain child behind Mozaic Beach Club.
The Mozaic Beach Club offers lunch on deck, poolside chill-out tapas, evening dining a la carte, private dining room, tasting menus, as well as a fine dining restaurant. It is the perfect place to be mesmerized by a stunning sunset. You can see why this is such a hit.
There is nothing that can be said about the food other than 'superb.' Fear not – for it truly will tantalize your taste buds no matter it is you decide to enjoy. Chef Ephraim has been around, but for the last four years, he's been at the Ubud Mozaic Restaurant Gastronomique so he truly has an understanding of the local cuisine along with all the flavours he brings from his background. He really does have a love affair with fresh ingredients and seeks to use what's available at the time.
If you are anywhere near Batu Belig you really should make sure that you put a stop here on your to-do list. Besides, while here make sure to visit Tempel Taman Ayun, and take a walk through Butterfly Park. There is also the Bali Museum that is definitely worth a stop. This is a community that you won't want to miss on your Bali travels. Enjoy the local culture, pamper yourself a little, and be sure to stop by the Mozaic Beach Club.