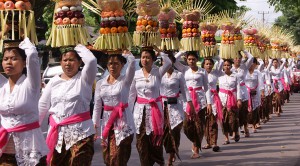 Bali Villas as offered by holiday booking companies like Easy Bali Villas are growing in popularity on a global scale. They are normally furnished to world standards and fitted with the latest amenities such as flat screen TV's, stainless steel kitchen appliances among others. Moreover, the fact that they are in a safe and tranquil place in South East Asia is one other reason behind the increase in popularity. The minimum requirement in terms of amenities you will get at all these Balinese villas is swimming pools and patios, if you want a little more luxury, you get an infinity pool, spa and steam bath among others.
Most of these villas are located near the seashore, and their patios extend right up to the point where they touch the shallowest parts of the sea. The villas are also fitted with a number of top incorporated services designed specifically for you as you wait for the Galungan Festival, Bali's most important religious festival. This festival celebrates the victory of good over evil. It also honors the spirits and memories of all Balinese ancestors.
The best location for celebrating or observing Galungan Festival is Ubud, Bali's major cultural center or headquarters. Bali boasts of more than 20,000 temples spread across the island, inhabited by around 4 million people, and these do not include tourists from across the globe. The fact that each village has three temples means you will never miss a place to celebrate or observe Galungan Festival while enjoying your vacation in Bali.
Bali differs from other parts of Indonesia in that it is Hindu, while the rest of the country is predominantly Muslim, which is a major boost for tourism. The Balinese calendar runs for 210 days and during this time, the Galungan Festival is celebrated once, and is now synchronized with the Saka and Wuku calendars. And do the Balinese just love this festival or what! Families all over Bali offer sacrifices of food and flowers as part of celebrating the Galungan festival, which occurs once in every 210 days. You could join the fun while on holiday in Bali.