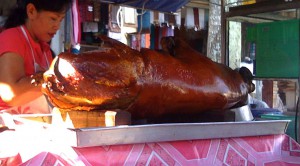 The Guardian has taken the time to create a list of the top 10 places to eat in Ubud, Bali. It's an interesting list and with so many restaurants in the area, it's kind of nice to have a list of what are considered the best by some of the experts in the tourism industry.
The idea of Balinese cuisine is exciting – what a nice surprise after our own diets and you'll get to taste some of the most delicious meals you'll ever eat, at a price that will amaze you. Some of these restaurants have been around for years. Of course, you can also enjoy traditional western food if you like but why take bland when you can have Bali?
Let's look at three of these restaurants, in no particular order. Be sure to check out the other top restaurants.
#1 Ibu Oka Warung
You'll find the Ibu Oka Warung shanty style café across from what used to be the Royal Palace. You come here to enjoy the Balinese roast suckling pig, which arrive on a motorcycle. It's an experience you won't want to miss.
#2 Bebek Bengil
Bebek Bengil translates to the Dirty Duck Diner, and that's what it's known as by tourists and locals alike. It's one of the most beautiful, relaxing places you'll ever eat. Oh yes, and then there's the delicious bebek tutu or smoked duck which is what the entire menu is based on. So come experience how a duck can really taste!
#3 Warung Nasi Be Tutu
If you want to get off main street, which is focused on tourists, and sneak down into the basement, you will discover this fabulous food market that's perfect for those that love a little adventure in their eating. You'll find Warung Nasi Be Tutu with its small wooden stools and pots of local food cooked on charcoal braziers. It's a fabulous local experience.
When visiting Legian Bali you are going to be spending a great deal of time eating, so why not experience what life in Bali is like through your taste buds.