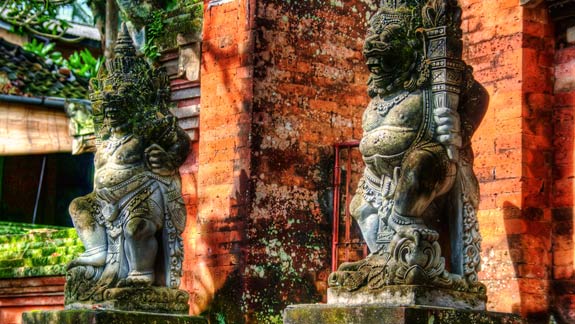 Although a common mistake Ubud is not a town or city, it is actually a collection of fourteen tiny villages all on each other's doorsteps.
Because Ubud is so amazing here is a summary of the top five reasons to visit:
Central Location
At a mere 35 kilometers away from The International Airport it is the centralized location of this charming place that makes it a hugely popular destination. Transportis easily available and finding a taxi at an affordable rate is not a problem. Being smack bang in the middle of the villages allows the visitors to explore the culture, restaurants and beaches without hassle and getting around on foot is also an option for those wanting to save money or merely soak up the atmosphere.
Ubud, The Cultural Hub
Art, artists, writers, collectors, tourists and nature lovers are the words associated with Ubud – forget France Ubud is the new artist's retreat. However, the place hasdoesn't lacks Balinese culture, in fact it practically reeks with it. Despite the popularity of Ubud rice farmers are still able to work and are relatively undisturbed by the hustle and bustle. This makes a startling contrast and is an example of the diverse and fascinating culture of this place.
The Shopping Centre
As art is a huge focus of Ubud the shops will, of course, reflect that. Unique pieces of handicrafts and artwork, local flower fields, beautiful jewelry, uniquely crafted bowls and handmade essential oils are only some of the things are available for your inner shopaholic to buy. Celuk, the silver capital of Bali, is a must see if you like jewelry and it will command your attentionthe moment you see it.
Affordable Accommodation
Accommodation ranges from budget to luxury but even those you might find are surprisingly cheaper than first expected. The luxury villas in Ubud are relatively cheaper when compared to other Bali villas and this is only another thing that adds to the accessibility of this place. The villas and hotelsoverlook beautiful scenery including mountains, rice fields and gorgeous architecture.
Therapies and Massages
Your visit to Ubud, or indeed Bali,will not be complete without a Balinese massage. Essential oils are used to unwind and relax the muscles in your body.Be sure to pamper yourself with the reiki therapy, famous among the localpeople forbeing relaxing, comforting and calming. Ease away the away the tense muscles from walking and hiking and unwind during your stay.
So with affordable accommodation, eateries galore, spas, homemade gifts and the airport right around the corner nothing could be better than a trip to Ubud this holiday!