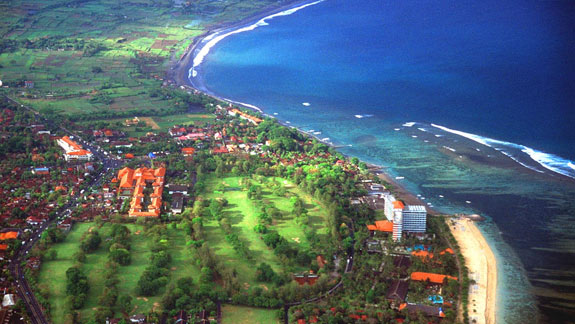 Many people will tell you that Sanur Beach has the best sunrise views in the entire world; just imagine what it's like here, spending an evening out on the town, enjoying the culture and vibrant night life, then lying down on the beach to take in yet another beautiful sunrise.   Or visit one of the many delicious restaurants or cafes, many situated right on the beach itself, with gorgeous views of the ocean.   Fill your afternoon with a trip to see the art galleries, shopping plazas and other cultural attractions.  Enjoy the breathtakingly beautiful beaches – go swimming, or try renting a jukung, canoe, or sailboat.  Transportation is also easily available – Sanur has an excellent system of buses and taxis, and you can also rent a car or motorbike if you want to explore more on your own.
Sanur also has an interesting backstory – when the Netherlands invaded Indonesia in 1906, Sanur was their point of entry into Bali for the battles that followed.  These days, it serves as a place where many travelers enter and explore Bali for themselves. Since the village is close to some of the other popular tourist destinations in Bali, it makes a great place to stay and relax in between visits to other parts of the country, one of the reasons it has become such a favorite choice for travelers.
You'll have a multitude of choices for where to stay when visiting Sanur – with options ranging from the affordable to the truly decadent, there are hotels to fit any travel plan.  Sanur also has some of the world-famous private villas, modernly designed, and wonderful for larger groups that are looking to travel together.  And with the variety of restaurants here, you can enjoy cuisine from around the world – French, Japanese, Chinese, Italian, and of course local Indonesian foods are avaiable at the restaurants.  Visit Danau Poso Street, Pantai Sindhu Street, and Danau Tamblingan street, to see some of the best establishments; or stop by one of the street stalls in the night market to get some truly authentic Indonesian food.  Taste it once, and you'll definitely want to come back during your stay.
Shopping in Sanur is also more affordable than in other parts of Bali – everything you could want is for sale at the beach market.  Sarongs, towels, t-shirts and other unique souvenirs are available at half the price that you'd pay at boutiques in other parts of the country.
Once, Sanur was a sleepy little fishing village, but as people began exploring the treasures of Bali, Sanur became a premier vacation destination – so pack your bags, and book a private villa in Sanur today, to get the most out of your vacation time with your family.