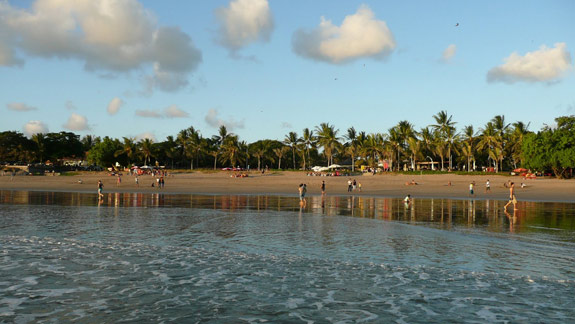 The bottom of Jalan Padma, also called Padma Beach, is the most popular area of the Legian beach as it is very peaceful and provides great sight-seeing opportunities.  Being far less crowded than other beaches on the island makes Padma beach a must-visit place, to enjoy the white sand, clear blue waters, and the gorgeous sunsets Bali is known for.   Padma Beach also features a wide range of product and services – one of the things it's most known for is the ice-cold beers, available from umbrella-shaded vendor stands.  It also has very convenient parking for easy access to the beach.
Bali villas are famous for their beautiful architecture, and this of course is true for the luxury villas available in Legian as well.  The long road between the beaches themselves, and the beach-side hotels, makes an excellent and well-maintained walking path for people staying at the hotels  who want to visit the exciting attractions available beachside.  The famous Double Six Beach in  Legian has numerous restaurants, bars, and nightclubs,  ready to spice up your night.
The main road in the area is the Jalan Legian, which can get very congested at times; the airport is only 20 minutes away and many taxis are available for a nominal fare.  Motorbikes and crs are also available for rent, but many people would rather enjoy the area on foot and avoid the traffic issues altogether.  Why ride, when there's so much to see while you walk?
From Balinese souvenirs, to the most stylish designer surf wear, Legian also has everything a shopping enthusiast is looking for; however, since the area is not as overwhelmingly huge as other shopping districts in Bali, you can easily cover the entire shopping area to make sure you don't miss a single deal.  Some of the more popular items available in the Legian shops include Indonesian beads, fabric, surf wear, patterned sarongs, and shellwork.
Legian also has some excellent restaurants that you won't want to miss – have dinner beachside, and view the magnificent sunset as you also enjoy a wonderful meal.  Some notable restaurants in Legian include the Bali Beach Shack bar and restaurant, the Gosha Bar and restaurant, the Island Cafe, Ketupat, Tekor Bali, Zanzibar, Jaya Pub, and the Cobra Mushroom.  See if you can make time in your visit to see each one!